Header Image: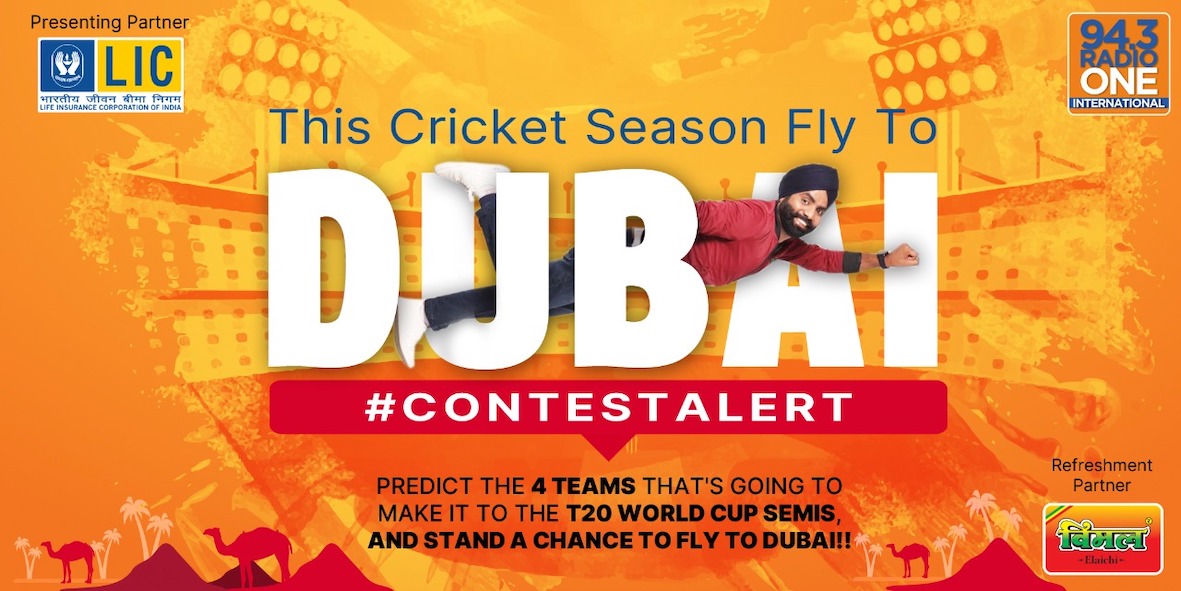 TERMS AND CONDITIONS FOR T20 QUIZ
THESE TERMS & CONDITIONS (HEREINAFTER REFERRED TO AS THE "T&C") ARE APPLICABLE TO ALL THE PARTICIPANTS/CONTESTANTS OF T20 QUIZ "FLY TO DUBAI" (HEREINAFTER REFERRED TO AS THE "CONTEST") PROMOTED / ORGANIZED BY NEXT RADIO LIMITED (HEREINAFTER REFERRED TO AS "RADIO ONE/NRL"). THE RULES CAN BE AMENDED OR VARIED FROM TIME TO TIME BY NRL. THE CONTESTANT MUST CAREFULLY READ AND AGREE TO THE T&C BEFORE PARTICIPATING IN THE AFOREMENTIONED CONTEST.
1. INTRODUCTION
1.1. Entry and participation in the Contest shall be deemed an unconditional and irrevocable acceptance of these T&C. All entry instructions and any other specific details relating to the Contest or the prizes form part of these T&C.
1.2. Radio One reserves the sole right to terminate the Contest at any time without giving prior notice. All decisions of Radio One in any matter relating to the Contest shall be final and no discussion or correspondence will be entertained.
1.3. A failure by Radio One to enforce any of these T&C in any instances will not give rise to any claim by any person.
1.4. Radio One reserves the right to amend these T&C at any time at its sole and absolute discretion. The Contestant/Participant must read the T&C from time to time to be fully aware of the T&C's.
1.5. Should Radio One or its agents become aware of any fraud, deceit or similar action undertaken in connection with the Contest or otherwise, or any act or omission which might have an adverse effect on the Contest, Radio One reserves the right to forfeit the Contestant's place in the Contest (without giving any reason and without notice).
2. ELIGIBILITY
2.1. All Contestants MUST be (i) citizens of India; (ii) permanent residents of India; and (iii)
holding a valid Indian Passport and shall provide evidence of the same. Evidence required by Radio
One includes but is not limited to Identification Proof, Age Proof, Residence Proof, PAN Card and
a valid Passport. Further, Contestants must be above the age of 18 years.
2.2. Radio One reserves the right to disqualify a Contestant and/or withhold or recover the Prize in the event:
2.2.1 The Contestant is in breach of any of T&C or any of the obligations, warranties and/or representations made under this Agreement;
2.2.2 Contestant's conduct is inappropriate contrary to the spirit or intention of the T&Cs or of the Contest;
2.2.3 The Contestant has committed or undertaken any fraud, dishonesty, deceit, misconduct or similar action including providing any false or incorrect information;
2.2.4 An act(s) or omission(s) by the Contestant which might have an adverse effect on Radio One;
2.2.5 It is in Radio One's best interests to do so.
2.3. Radio One reserves the right to announce another participating contestant as the Winner if the
selected winner defaults/violates any of the T&C.
2.3. Radio One employee, spouses and immediate relatives are prohibited from participating in the Contest. NRL reserve the right to initiate disciplinary proceeding against the employee.
3. CONTEST
3.1. The Contest activity starts from 23rd October 2021 till 14th November 2021 for listeners/participant of the Contest namely "Fly to Dubai" to be launched on our 94.3 Radio One's Facebook page.
3.2. Mechanics and Gratification:
The Contest will commence on 23rd October, 2021 at 94.3 Radio One's Facebook page and end on 14th November, 2021.
In order to participate, Participants have to follow the 94.3 Radio One's Facebook page and answer the questions correctly posted on the Facebook page.
Winner will be selected from the pool of participants with the correct answers by randomizer.
Gratification: One winner will get a trip to Dubai for 3 nights and 4 days as a Contest reward from Radio Onewhich includes Hotel stay for 3 nights and 4 days, Dubai Visa with Insurance, All sightseeings on sic basis, Burj Khalifa 124th Floor, Dubai City Tour, Desert Safari with Dinner, Daily Breakfast, Return Airport Transfers.
Our team will connect with the selected winner over his/her social profile through DM to ask contact details.
The Contest reward shall be valid till December 15th, 2021 and the winner has to consume his/her reward trip by December 15th 2021.
Radio One does not take any responsibility for any errors arising out of incorrect or incomplete entries.
Radio One shall not be responsible for unauthorized access to entries, or entries lost whether arising during operation or transmission as a result of server functions, virus, bugs or other causes beyond its control.
Radio One reserves the right to disclose the information of the Contestant if the same is required in connection with this Contest.
Radio One holds no responsibility or liability in case Radio One is unable to inform the winner of his/her win due to non-availability / incorrect number, details provided by winner or any other reason from the date of announcement of winner, despite having made the best efforts. In such a case Radio One shall not be liable to proof the efforts made in this regard.
Radio One reserves the right to discontinue or terminate the Contest at any time or to accept or reject any or all entries at their absolute discretion without giving any prior notice without assigning any reason whatsoever.
Any attempt by a participant to deliberately damage or undermine the legitimate operation of the Contest and/or web-site is a violation of Criminal and Civil Laws and should such an attempt be made, Radio One reserves the right to seek damages from any such Contestant to the fullest extent permitted by law.
Radio One reserves the right to disqualify any participant/winner if it has reasonable grounds to believe the participant/winner has breached any of these Terms and Conditions. If any participant is disqualified from the Contest, Radio One in its sole discretion may decide whether a replacement participant should be selected. In this event, any further participant will be selected on the same criteria as the original participant and will be subject to these Terms and Conditions.
4. PRIZES
4.1 The Winner is eligible for prize mentioned in clause 3.2 subject to production of valid documents for Photo ID proof/Valid Passport at Radio One office in their respective cities. Any failure on the part of the winner to comply with directions issued by Radio One, shall entitle Radio One to cancel and forfeit the prize for the said winner and then the same prize will be given to the next winner.
4.2 All Prizes are non-transferable and may not be given or assigned to another person.
4.3 The winning prize of the Contest is subject to deduction of applicable taxes including Gift tax in accordance with law.
4.4 The winner shall bear the Gift tax, levies, cost and/ any other government taxes as applicable.
4.5 Winner will be liable to pay the taxes and other statutory fees (if any) as applicable on the Prize. Tax deductible at source under Income Tax Act is applicable for any prize exceeding the value of Rs. 10,000/-. The Winner shall pay TDS in advance by Demand Draft (DD) in favor of HT Media Ltd equal to the TDS amount deductable on the prize (which is 30% of Prize/prize amount) as per applicable income tax laws. The winner is liable to bear all related costs and charges incurred during collection, acceptance or avail of the Prize. At no point winner shall make Radio One liable or responsible for any additional charges to be paid by the winner for claiming/availing the prizes.
4.6 Radio One shall not be responsible for the quality, fitness, merchantability, defect or deficiency etc. of the Prize and no claim or request, whatsoever, in this respect shall be entertained by the Radio One.
4.4 The Contestant shall claim the prize on the date and time informed by Radio One. If not claimed Radio One reserves the right to forfeit the prize and has the sole discretion to announce another contestant as the winner.
4.5. The winners may be required to sign the Terms and Conditions herein before accepting the prize. In case false/fake identification details are submitted, the concerned participant/winner shall be disqualified immediately from the Contest.
5. INDEMNIFICATION
The Contestant agrees to indemnify NRL, its officers, employees, subsidiaries, and other partners against all costs, losses, damages, expenses and liabilities (including for loss of reputation and goodwill and professional advisor's fees) suffered by arising as a result of a breach by Contestant of obligations and undertaking under the T&C or in any way in connection with failure to follow reasonable instructions with regard to entry into the Contestant or collection/avail of any Prize.
6. FORCE MAJEURE
NRL shall not be liable to the Contestants for any delay or non-performance of its obligations under this Agreement arising from any cause or causes beyond its control including, without limitation, any of the following: act of God, governmental act, war, fire, flood, explosion, civil commotion or industrial dispute, armed hostilities, act of terrorism, revolution, blockade, embargo, strike, lock-out, sit-in or regulatory intervention.
7. PUBLICITY
7.1. Winners must as a condition of the prize participate in all required publicity and provide necessary details.
7.2. The Winner shall not without the specific prior written consent of Radio One publish or disclose any information in connection with the Contest or the Prize (in particular, without limitation, to a representative of the media, in whatever form).
7.4. The Winner agrees to undertake as requested by Radio One all interviews, Contest and other activities and to the reproduction publication exhibition transmission and broadcast and media throughout the world at the discretion of Radio One in perpetuity.
8. DATA PROTECTION
The participants/contestants agree that for the purpose of operating this Contest, Radio One may collect personal and/or sensitive personal information ("Personal Data") from you. Such Personal Data will be used by Radio One for the purpose of operating this Contest. Providing Personal Information is voluntary; however, failure to provide such data shall result in your inability to participate in the Contest. Participants eligible for a Prize give their consent to the collection and processing of such Personal Information.
In addition to the above, please visit the Privacy policy and Terms of Use at our official website www.radioone.in to understand why your Personal Data is collected and what we do with it. Please note that your acceptance of these terms and conditions is deemed to signify your agreement to these Privacy policy, including without limitation to the collection, use, transfer, storage, handling or otherwise processing your Personal Data in accordance with terms hereof.
(i)  We reserve the right to refuse to issue Prizes to the winners unless they provide their Personal Data necessary to release the Prize and to perform other activities to run the Contest.
(ii) Participants authorize Radio One to use the Personal Data sent to the Contest in connection with the Contest.
(iii) By accepting these terms and conditions you also hereby give your consent to Radio One or any other third party nominated by Radio One to carry out profiling of your anonymized data made available through Radio One for this reason transfer of your Personal Data to such third parties. Radio One will take the necessary measures to secure and keep safe, either directly or through third parties, any such information that you may have shared.
(iv) It is important to remember that whatever you transmit or disclose can be collected and used by others or unlawfully intercepted by third-parties. No data transmission can be guaranteed to be 100% secure. While we strive to use commercially reasonable means to protect your information, we cannot warrant the security of any information you transmit to us.
Your personal information may be retained and may continue to be used until: (i) the relevant purposes for the use of your information described in this clause are no longer applicable; and (ii) We no longer required by applicable law, regulations, contractual obligations or legitimate business purposes to retain your personal information and the retention of your personal information is not required for the establishment, exercise or defense of any legal claim.
9. JURISDICTION
9.1 The Contest shall be governed by and construed in accordance with the laws of India.
9.2 The Courts/Tribunals at Delhi shall have the exclusive jurisdiction over any disputes, differences and, or, any other matters in relation to and arising out of the Contest and, or, pertaining to the rules and regulations and, or, to the subject matter of this T&C.